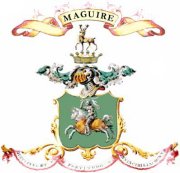 McGuire Home
McGuire Genealogy and Family History
Is what this site is dedicated to
When completed it will house Family information
As well as linked surnames.



We have traced this clan of McGuire's from 1742 Lee Co. Virginia (William & Hanna McGuire), to Ray County Missouri, Webster County Iowa, Minnesota and Oklahoma.




McGuire Reunion Invitation
For related members of the Family




<!~----- SITE LAST UPDATED ----->
This Site Last Updated ... 9 March 2010
Please Have a seat
take a nice drink of coffee
and sign our guest book



View Guestbook .

. Sign Guestbook
If you would like an invitaion to ourMyFamily.comsite to share in this McGuire Family
Just send a note to RARandall02724@yahoo.com or MissiMcG@aol.com with your full name
And tell us you would like an invitation to the McGuire site
Looking for Professional grade help with your website?
Please stop by our friends at
You'll have to click on the sign,
they may be resting from all the hard work they do.
Free search engine submission and placement services!